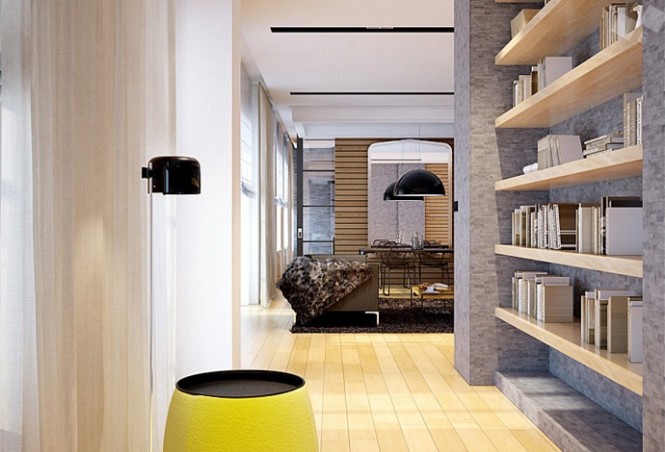 Efficient use of space
Is built-in storage an matter of personal taste or something that should be engineered into the home's floor plan?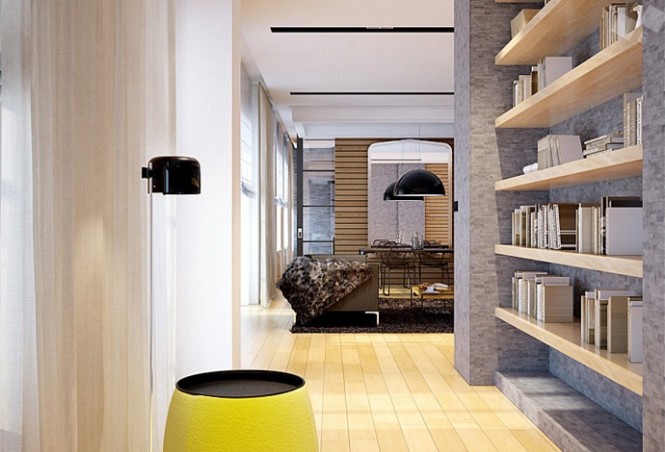 (Image Credit: Home Designing)
Just like many of our readers, I have my own personal tastes for how I would style my home's interior, but somehow the ideas remain mostly just ideas. In our previous home, my wife and I planned to remodel our kitchen with a complete makeover. We ran thru the usual routine of flipping thru magazines, and design books and came up with many dream concepts. The reality however was that either the project budget would have to exceed the price of the home, or we would have to make so many compromises than the new kitchen would essentially be just the old one with all new cabinetry and some minor improvements.
Over the years the more time I have spent on home design, the more I have come to realize that home storage needs to be treated more seriously at the early stages of floor plan design. In a custom built home where we are sitting face to face with the end user, this is easier to do as we can discuss their specie needs, tastes, and requirements to design the optimal storage solution that will serve them well for years. The challenge is designing storage for a spec. home; a home that has no specific buyer but could potentially appeal to wide range of users. The general opinion is that there is no point in a builder customizing the home with a lot of features because it's not possible to predict the styles and tastes of the buyer that will eventually buy the home.
Many buyers also think that they would like to buy a blank canvas floor plan that they can later customize to their unique sense of style. The reality however sets in a few years after the homeowner has been living in the standard home and finds themselves surrounded by clutter and no place to put things. Somehow those ideas of creating that wall of built-ins and the custom organized closets keeps getting put off due to our busy schedules. Sure we may have put up a few shelves, brought in furniture with drawers, and added some cool widgets to help organize the garage, but we often find ourselves still tripping over things that have no place to go. When we do manage to and We find ourselves dealing with poorly organized homes, that do not help us cope with today's busy lifestyles, multitasking, and generally overwhelmed minds. It's not a lack of space, but a lack of functional storage that adds to our stress levels and prevents us from getting the most enjoyment from our homes.

The majority of the space in our homes is unused. I would even go so far as to say, even in the most cluttered of homes, the majority of space is unused. We have become accustomed to thinking of the space in a home as being related to square footage. While this does matter to some degree, it is not a good measure of the amount of usable storage in a home. Take an average home of around 2,000 square feet floor area. That equates to roughly 40 x 50' of floor space if it is all at one level. We need to multiply this number by the wall height to determine the volume of space inside the home.
When you buy a car, the manufacturer lists the volume of space available to each occupant, and the trunk storage available. Each car has a different shape and one might look small but have a surprisingly capacious luggage capacity. Although square footage defines how much floor space you have to work with, there is usually 8 or more feet of height that goes undefined, unmeasured, and underutilized. When it comes to storage space, we need to compare the volume of storage space in one home to another. It is quite possible to design a 2000 sq. ft home with double the useable volume of storage space than a 3000 sq.ft. home where storage has not been given much thought.
2,000 square feet area x 8' ceilings = 16,000 cubic feet of volume
2,000 square feet area x 9' ceilings = 18,000 cubic feet of volume
2,000 square feet area x 10' ceilings = 20,000 cubic feet of volume
and so on depending on ceiling height
If a wall of cabinets is installed in the kitchen, we can calculate how much volume those cabinets have:
15' long x 2' deep base cabinets x 3' tall = 90 cubic feet
15' long x 1' deep wall cabinets x 3' tall = 45 cubic feet ... Total 135 cubic feet
If an entire wall is done in with 18" deep (1.5') cabinets, floor to ceiling

15' x 1.5' x 8' tall = 180 cubic feet
How many such floor to ceiling walls ( or equivalent ) do we see in a normal home? 1 , 2, maybe 4. Lets say 180 x 4 walls = 720 cubic feet of storage in the home is provided for. That is roughly 4% of the available volume in a home with 8' ceilings.
Granted, a home is not a warehouse, and no one wants to pack it in floor to ceiling, but wouldn't it be wise to make use of more of it than we do now, especially if it helps open up rooms that may currently look like a mess. I believe that we could easily take it up about 10% of the volume of the home while perserving or improving the aesthetics. That equates to 1,600 cubic feet of built-in storage, purpose built and creatively distributed throughout the home. Imagine having a place to put most of the nicknacks out of sight and leaving precious floor space open and useable instead of taken over by clutter.
We believe given the option, many of us would be far better served buying homes with well-planned and useful built-ins than the dream of eventually customizing the interior of our homes ourselves. Just like car makers decide where all the cubbies can fit best and we accept those the way they are, we would be happy if builders built homes with more useful storage. The key is that the storage has to be done well and beautifully integrated with the style of the home and not thrown in as an afterthought.
Tell us what you think.